Acardion Aluminium Credit Card Fraud Blocking Armoured Wallet - Silver
Meet Acardion. Built like a tank yet small and lightweight, with card slots and space for all your cash and RFID protection to help stop wireless card fraud, this is a perfect travel or everyday solution for carrying all your valuables securely. Silver.
Frequently bought together
| | |
| --- | --- |
| | |
---
Modalità di spedizione:

Spedizione immediata per ordini effettuati entro le 18
Garanzia 30 giorni soddisfatti o rimborsati
Sign up for a Business Account
Most Helpful Reviews
Recensioni
231784

I didn't need any further information other than that supplied on website

| | |
| --- | --- |
| | Pat Sherrah |
| | 9th Agosto 2018 |

231318

Nothing more than was already in the description of the product

| | |
| --- | --- |
| | Rosemary Smith |
| | Derby |
| | 29th Luglio 2018 |

230439

Seems to be as good as the other one I bought at 5 times the price.

| | |
| --- | --- |
| | Raymond Casimir |
| | 7th Luglio 2018 |
Perché comprarlo?
Stylish, functional and super-secure wallet case for everyday use
RFID wireless fraud protection
Accordion style design
Impact-resistant and weather-resistant aluminium casing
Lightweight and compact
descrizione
Stylish, functional and super-secure wallet case for everyday use
This smooth, sleek armoured wallet case is the perfect option for storing your ATM sized cards cards and far more besides. Combining utility and RFID fraud protection, this wallet case effortlessly blends style, substance and safety. Store all your most valauble cards (it can hold up to 10 easily - a lot more if you want to really load the pockets up) as well as keys, cash, change, documents and anything else you may need to travel light, all in one secure place. Acardion makes it easy with just one push on the open button.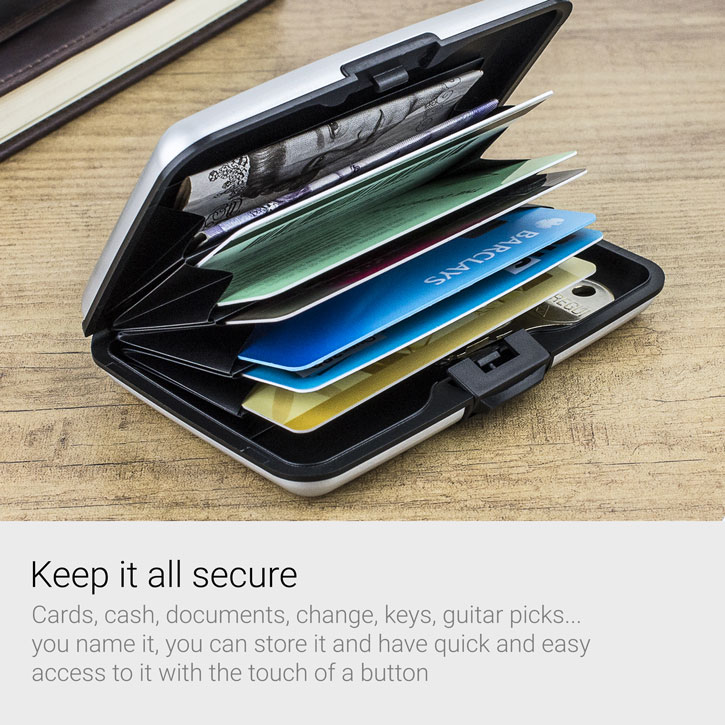 RFID wireless fraud protection
RFID (radio frequency identification) fraud, or wireless identity theft, is worryingly becoming more and more common. Essentially, with certain technology, it's possible for criminals to steal your credit or debit card information without laying a hand on the card itself by using certain scanners. Don't worry, though - Acardion features integrated RFID fraud prevention technology layers that deny the scanners access to the chips in the cards, so you can rest assured that you're safe from wireless fraud while your cards rest in the wallet.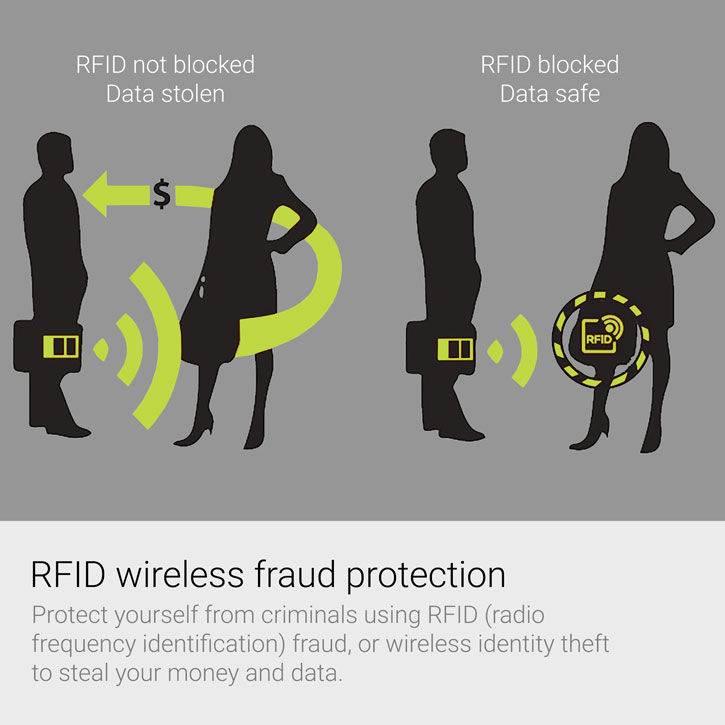 Accordion style design
When it comes to providing quick and comprehensive access to your valuables, there is no better solution than an accordion design. While you may not be able to get a decent tune out of it, you will be able to quickly view and select from the contents of the Acardion in seconds, just by opening the case wider. When you're done, just close it up again and everything folds conveniently flat. Perfect.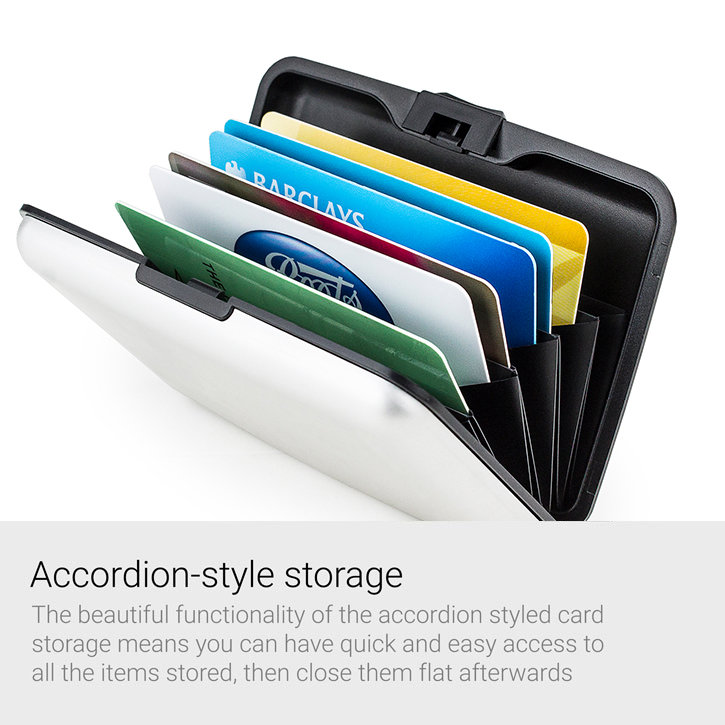 Impact-resistant and weather-resistant aluminium casing
Acardion is perfect for every day use, especially on your travels. By selecting aluminium casing, it not only absorbs any impact you're likely to subject it to, it also keeps it light. When closed properly, the case is waterproof and will certainly stand up to whatever mother nature will throw at it. Being able to travel light and keep all your cards, ID and money safe also makes Acardion the perfect travel accessory, so don't leave home without it.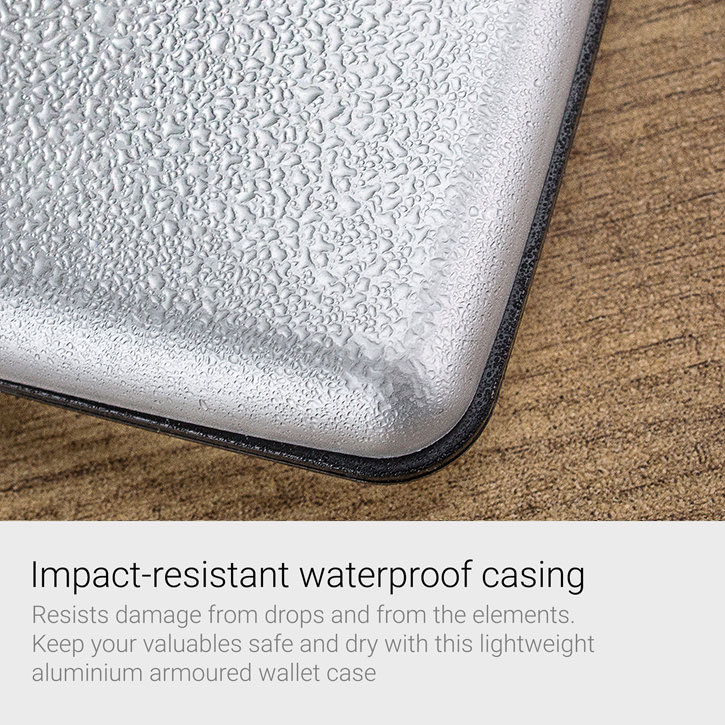 Lightweight and compact
Acardion is only as large and as heavy as it needs to be. That is to say, it's not very big and certainly not very heavy, especially when you consider how much punishment it can take. You can slip Acardion in your bag, jeans or coat pocket which makes it very portable indeed.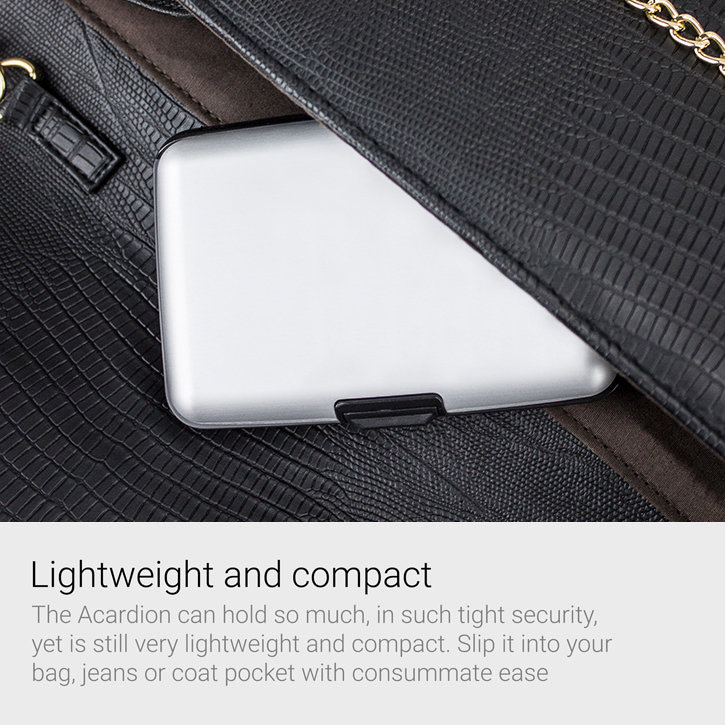 Key Details
| | |
| --- | --- |
| UPC | 0644812016615 |
| Colore | Silver |
Delivery & Returns
Posta ordinaria: 2.99 €
Servizio economico con un buon rapporto qualità prezzo, ideale per ordini meno urgenti.Tempi di consegna stimati: tra 4 e 10 giorni lavorativi.Tutti gli ordini effettuati prima delle ore 18.00 sono spediti nello stesso giorno. Modalità di spedizione non tracciata.
Note:I tempi di consegna stimati sono meramente indicativi. Mobile Fun non può essere ritenuta responsabile di eventuali differenze tra i tempi stimati e quelli effettivi. Il tempo effettivo di consegna può variare in base a diversi fattori quali la zona di consegna, il periodo dell'anno o l'efficienza delle poste locali.

DHL Consegna Espressa: 15.50 €
Servizio di consegna rapido in 24-48 ore. Tempi di consegna stimati: 24-48 ore (Aree Remote escluse). Tutti gli ordini effettuati prima delle ore 18.00 sono spediti nello stesso giorno. Modalità di spedizione tracciata.
Note:Per ordini superiori a 65 euro, potrete scegliere tra le opzioni DHL che verranno selezionate di default. DHL non effettua consegne durante i weekend, di conseguenza tutti gli ordini effettuati di venerdì saranno consegnati a partire dal lunedì successivo. In alcune zone considerate dal corriere come "Aree Remote" la consegna non è garantita in 48 ore. Per ulteriori informazioni sulle Aree Remote consultare il sito del corriere.
Compatibilità