Descrizione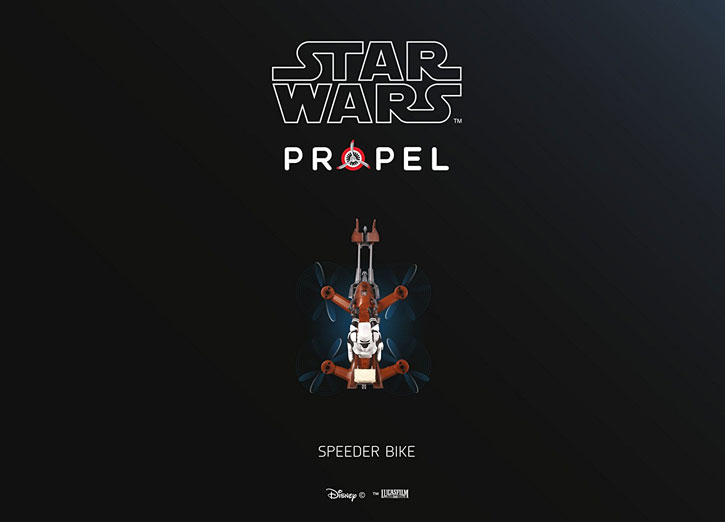 Get ready to return to Endor for the ride of your life
The iconic 74-Z Speeder Bike - made famous in the Endor chase scene in Return of the Jedi . For over 35 years we've dreamed of riding one and now, you can. This high detailed model of the Speeder Bike was made to fly and fly it does with grace, speed and accuracy that puts drones many times its price to shame. Your Speeder Bike will zoom around the air at over 35mph, respond to control inputs instantly and even fight other Propel Star Wars drones with realistic sound effects and lights. Computer games cannot compare with actually flying your own speeder bike and the real thing sadly does not exist, so this is the most realistic speeder bike experience you're ever likely to have. Imagine the joy of piloting one of these drones through a wooded area near you? Or several of your friends racing them and fighting through it? Total geekout!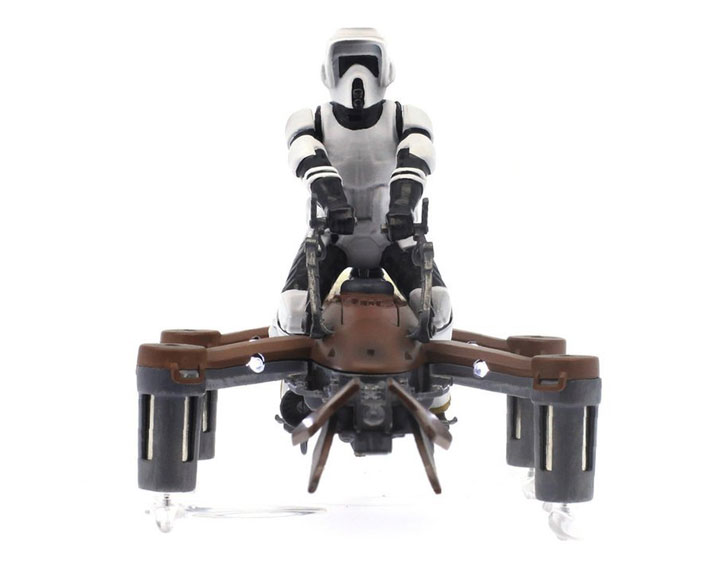 Full App support for multiplayer battles and flight training
No other drone has such extensive app support to take your experience to another level entirely. Not only are there tutorials for controlling and setting up your drone before ever taking to the skies, but there's also an extensive community with competitions and the possibility of large multiplayer battles. Yes, these drones aren't just designed to look and fly good, they can actually battle too. This is epic news for anybody that has ever dreamed of actually taking part in starfighter battles as seen in the Star Wars universe. Team up with squadron mates and take on the enemy in up to 6 V 6 dogfights. You can even recreate the battles from the movies as the laser weapons onboard target enemy fighters, sending telemetry to your phone as hits are recorded. These drones are already being celebrated by Star Wars fans as the greatest toys the franchise has produced yet. They're not just a gimmick, they're designed by fans with skill and love.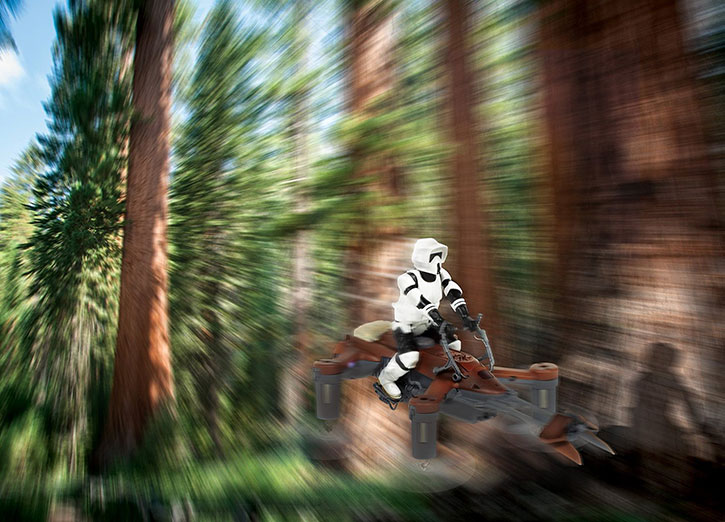 Reverse propulsion blade system for superior stability and speeds of up to 35mph
Most drones pull the air in to achieve lift but these drones push. It may seem a trivial point but in terms of aeronautics it provides more stable flight characteristics and potential for speed. Speaking of speed, these drones can achieve speeds of over 35mph when you're ready to use the higher speed settings. The results are spectacular as your fighter zooms across the sky like the 'real' thing. At lower speed settings the drone stays airborne with ease and responds beautifully to control input meaning even beginners can master flight easily and quickly.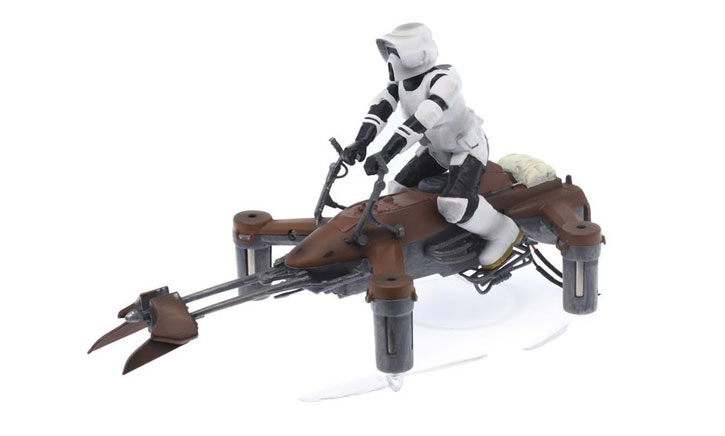 Push button 360 aerial stunts with 3 speed settings for beginner to advanced pilots
You can pull the kind of maneuvers Imperial Biker Scouts would be proud of at the push of a button as your bike swivels and flips in the air. Use these tactics well in battle and the results can be deeply satisfying and look amazing. Whether you're a Padawan or Jedi drone pilot, there are 3 speed settings to suit. The feedback from experience drone pilots is that this is a superb drone, even without all the Star Wars connections, combat functions and extra features.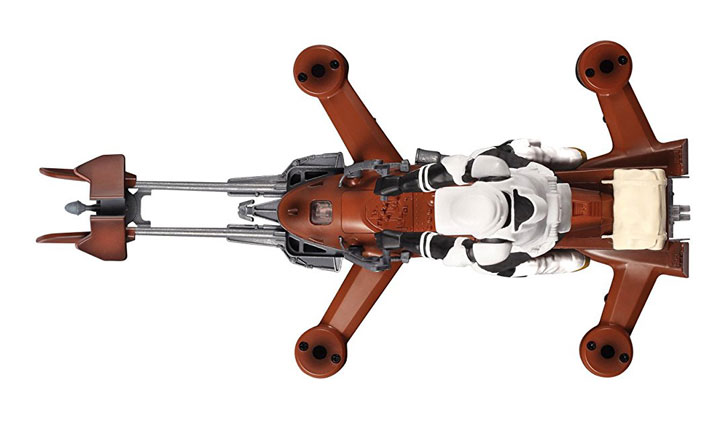 Sound and vision
This isn't just about awesome flight and dogfighting fun. The drone features engine lights, spot lights and audio too. Lasers flash when fired, engines flare when powered up, and a series of awesome sound clips accompany it all. It's an absolute feast of authentic Star Wars sound and vision.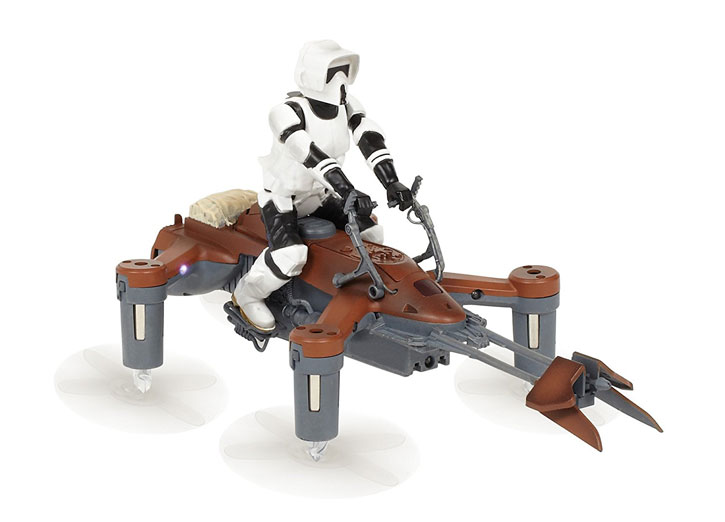 2.4GHz wireless remote controller with phone holder
There's no point having a slick-looking, highly detailed and authentic Star Wars drone if you can't control it, right? The included remote controller has everything you need to control every aspect of your drones flight, from speed, yaw and pitch, weapons and stunts. The 2.4GHz frequency will ensure your drone gets your inputs with no latency. This is key when you're in battle of performing spectacular maneuvers around obstacles. There's also a mounting bracket for your phone too.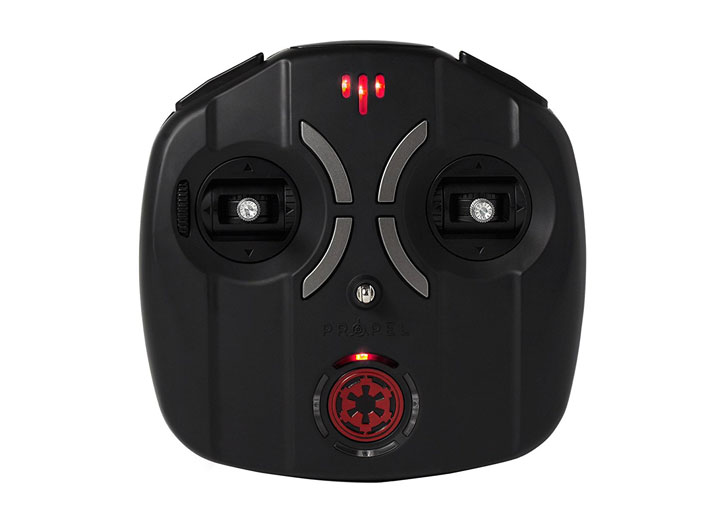 Compatible with Apple and Android devices
For a richer experience, this device is best operated in conjunction the dedicated companion application available for Apple and Android devices. Details in the box.
Official Star Wars Disney merchandise
There is plenty of fake, unofficial merchandise out there. Especially with something as iconic as Star Wars. Well, this isn't that. This is 100% genuine licensed merchandise from Disney. So if you want to give this as a gift (and it is perfect for that) rest assured you are purchasing the real deal.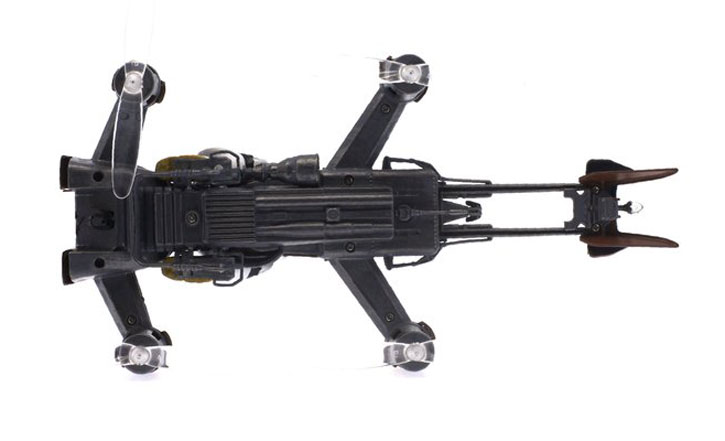 Technical details
Batteries
4 AA 1.5v alkaline batteries (not included) for wireless remote
Average charge time: 30-40 minutes
Average run time: 6-8 minutes
Product Dimensions: 193 x 109 x 335mm
Weight: 125g