Descrizione
A fully-working DIY wireless boombox speaker
ThumbsUp DIY Wireless Boombox is definitely something new! This do-it-yourself type of a gadget is actually a fully-working Bluetooth speaker which is going to need some assembly. You can be relaxed knowing that the process is fun and easy-to-follow, whilst we can guarantee you a feeling of accomplishment, once you get it playing your favorite tunes!
Compatible with most wireless Bluetooth devices
ThumbsUp DIY Wireless Boombox speaker comes enabled with Bluetooth technology, meaning that is really versatile and fully compatible with all Bluetooth enabled music and mobile phone devices. With simple pairing process, you will be streaming your favorite music in no time and all wirelessly! The boombox has a maximum range of up to 10 meters giving you flexibility to move it around the house.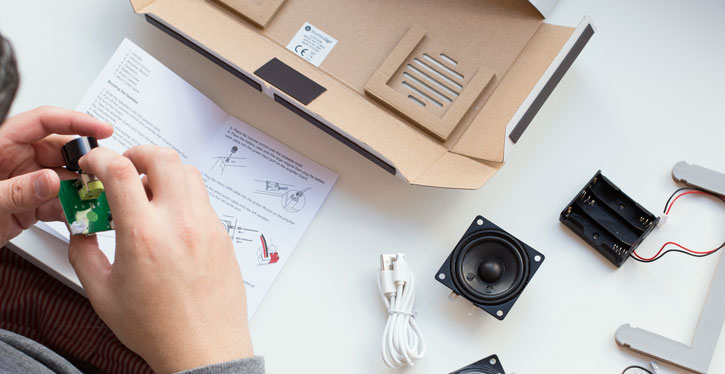 MicroUSB connectivity for use with non-Bluetooth devices
On top of the highly compatible Bluetooth support, this ThumbsUp DIY Wireless boombox also comes with a microUSB connectivity which can be used as an input, if Bluetooth is not available!
No technical knowledge required
As mentioned previously, the assembly process is really simple and easy to follow. You will only need to put together a few parts and insert 3xAA batteries (not included) to get it going. It is unlikely that you will need any help from your neighbour electrician!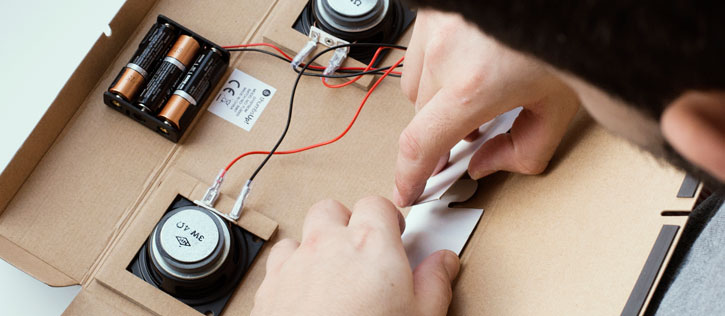 Please note: AA Batteries are not included.
Battery-powered 2 x 3W power output
Despite being powered by 3 X AA batteries (not included), this ThumbsUp DIY Wireless boombox packs stereo speakers with a total output power of 6W (2 x 3W). This will certainly be enough to play your favourite songs on the go, or whilst at home.
Specifications
Speaker output:

2 x 3 watt
Power supply: 3 x AA batteries (not included)
Connectivity: Bluetooth; microUSB (cable included)
Bluetooth range: up to 10 metres
Bluetooth Range:

Up to 10 metres
Product type: DIY