Descrizione
Lightning dock connector
The KitSound X-Dock 4 is designed for devices with a Lightning connection allowing it to work with a wide range of Apple products, including the iPhone 8 Plus, 8, 7 Plus, 7 and any other Lightning-compatible iPhone or iPod. So you can dock, charge and listen to music from your phone through this beautiful alarm clock speaker dock.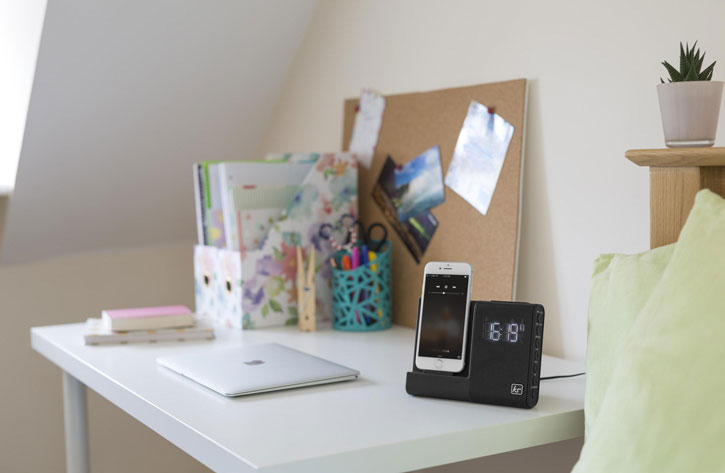 Built-in alarm clock with LCD display
You'd be forgiven for thinking that radio alarms are a relatively modern invention, but it's believed that ancient Greek philosopher Plato used a large water clock to wake him for early morning lectures. The KS X-Dock 4 is a bit more sophisticated than that, though. It may be small enough to sit comfortably on your bedside table, but this clock dock is surprisingly loud for its size.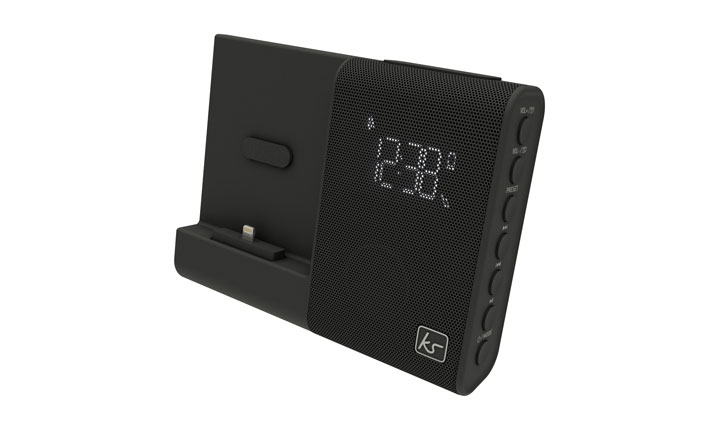 There is also an LCD display to clearly view the time and an adjustable slider so you can select how bright you wish the screen to appear.
Professionally tuned, room-filling sound
There's no need to worry about whether your alarm will be loud enough to wake you. The X-Dock 4 boasts 3 watts of power and is tuned by audiophiles, for music-lovers - so you can use this dock not only as a great clock radio, but as a Lightning speaker in its own right.
Connect multiple sources at once
New to the X-Dock 4 is the ability to choose from up to 3 sources for your audio. Connect an iPhone or iPod while simultaneously taking advantage of the included 3.5mm connector for any audio source, then seamlessly switch to the FM radio to hear your favourite tunes.
Charges your Lightning compatible iPhone or iPod
Once docked the X-Dock 4 will charge your iPhone 8 Plus / 8 / 7 Plus / 7, any compatible Lightning iPhone or even your iPod so that it's ready for the day ahead. It also automatically syncs the time from your device the instant you dock it.
Wake up how you want
Whether you choose to wake to the FM radio, the buzzer, or your favourite iTunes - the X-Dock 4 gives you the flexibility to wake up how you want to. There's also a 'Shhh' button for an extra 9 minutes sleep.
FM Radio Tuner
Listen to your favourite FM radio stations all from your bedside table, enjoying a variety of musical genres - right at your fingertips.
Line-in port for universal compatibility
With the built-in Line-in port, you can connect a wide range of audio and video devices so the sound is played clearly using the X-Dock 4. If you have another phone or media player that doesn't support an Apple Lightning connection, this is the ideal way of playing back the music from these devices. iPad users can also use this port for playing back music through the X-Dock 4's speakers.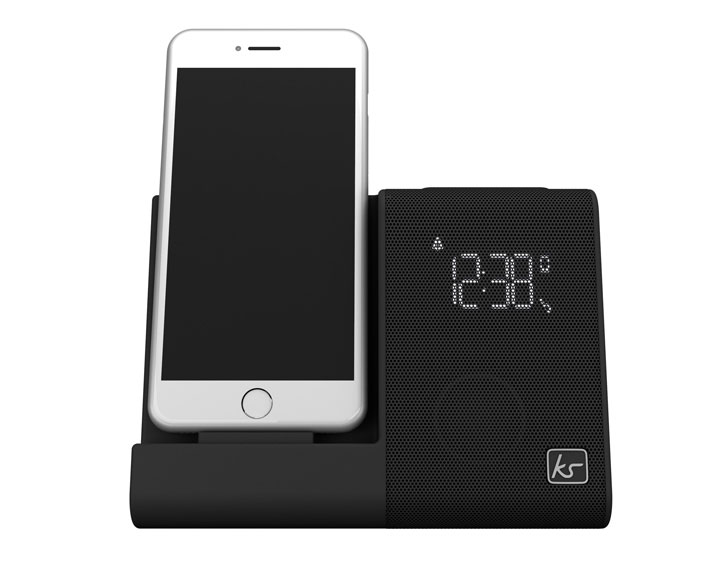 'Made for iPhone' certification

With the 'Made for iPhone' certification, you can be sure of perfect compatibility with your Apple Lightning devices and that the X-Dock has been made with the highest quality materials.
Technical specifications:
Dock connector: Lightning
Dimensions: 170.8 x 123.2 x 9 cm
Alarms: 2
Snooze time: 9 minutes
Frequency response: 70Hz - 18 kHz
Power: AC - Mains power
Backup battery: 2 x AAA