Cosa dicono i nostri clienti di questo prodotto?
David Rhodes
Camelford, Cornwall
Samsung Galaxy S3 mini
6 Settembre 2016
very good
Great pouch. Fits Samsung Galaxy S3 mini perfectly; it would be too small for anything larger. Pleased that there is no magnetic catch which has been a source of problems with other phone cases. However, I would have preferred the pouch to be made of black leather
Jane
West Yorkshire
Lyca Windows
24 Giugno 2015
You get what you pay for
Not a bad product. A bit lighter than the picture. Does the job.
6 Recensioni
|
Scrivi una recensione
---
Descrizione
Lightweight protective case keeps your phone safe but slim
This leather-style pouch is designed with quality complementary stitching, for an understated but classic appearance. The leather-style material used is thin and lightweight yet tough while adding a luxury look and feel to your phone.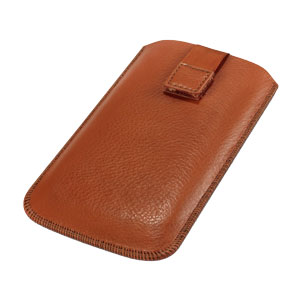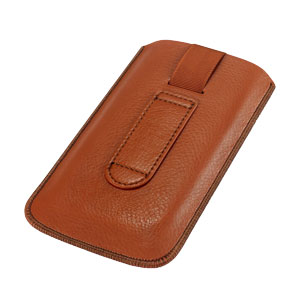 Durable outer layer protects against scratches and scrapes
The leather-style Pouch for smartphones features a tough and durable leather-style outer covering that provides premium protection for your device against scratches, scrapes and minor impacts.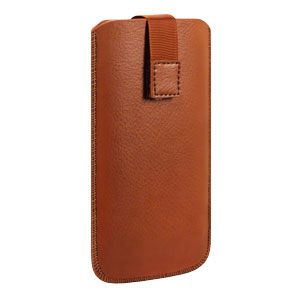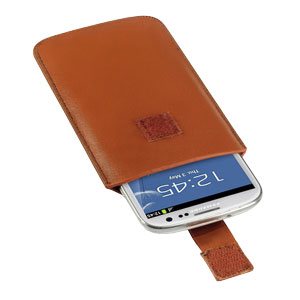 Soft inner lining prevents scratches on your screen
Inside the case is a soft microfibre lining that prevents any movement of the smartphone from causing any damage to the screen.
Handy pull tab for easy removal of device
As this is a pouch case, the tighter the fit the better. But a snug fit can make it difficult to remove your phone, so the case includes a handy pull tab to ease the removal of your phone. The tab strap retracts when you reinsert your phone, so the case will always look neat and tidy.
This case also has a handy belt loop on the back of it.
Technical specifications:
Dimensions: 143 x 73 x 25mm
Max Device Dimensions: 135.4 x 66.2 x 7.9mm