Cosa dicono i nostri clienti di questo prodotto?
20 Febbraio 2015
Universal Charging Station
Very handy bit of kit, great service and delivery as usual. Would like the option to add additional connection leads for more devices. But overall very pleased
Graeme Barrie
Falkirk
Ipad 2, Iphone5
9 Ottobre 2012
Excellent piece of equipment but don't believe the compatibility
The Universal charging station is a quality piece of equipment. Feels well built and does everything it says on the tin - Well almost..... The compatility page on the website states Iphone 5 compatible - As the Lightning adapter is rarer than hen's teeth I thought this would be a quick way to charge the phone at home however the one adapter it does not come with is the lightning so be prepared to pay another £15 if you wish to use it for your new phone. This is offset with the ability to charge your ipad with a cover attached (within reason - Mine fits with a silicon case on the back and the apple folding cover) I'm only using 2 of the charging points but so far am really impressed - Top piece of equipment.
Barbara Woodhouse
East Riding of Yorkshire
Universal Charging Station for Smartphones/Tablets
19 Febbraio 2016
Great Product
This is a very good product, its great to charge all Phones/tablets in one place & always know where they are. I had to return the first one as one of the cables was faulty, the returns process was a simple no fuss,no hassle service, which is quite something nowadays. I would recommend this product & the Company for their wonderful customer service.
6 Recensioni
|
Scrivi una recensione
---
Descrizione
Neat and tidy - avoid tangling cables
If you or your family have multiple electronic devices, you've probably got a mess of tangled wires you have to pick your way through every time you want to charge your phone, or tablet computer. With the Universal Charging Station, you can forget about the mess.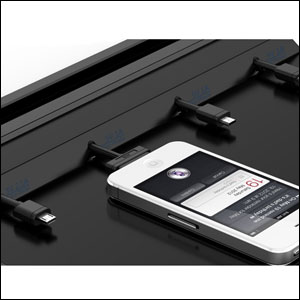 It is designed to charge 4 smartphones and tablet at the same time, and by using adapter tips with cables stored within the base of the charging station itself, the only wire you have to worry about is the cable that leads from the mains to the charging station.
Saves plug sockets - By allowing you to plug in 4 devices at one time

In this day and age, plug sockets can be at a premium, especially in larger households. Save sockets and aggravation with the Universal Charging Station. As it only uses one plug socket to charge three devices, you'll have up to one freed up for other uses.
Desk stand - Allows you to stand your phone whilst it charges

Not only does the Universal Charging Station keep up to three devices fully charged, it also looks good doing so. The base unit has an integrated stand, holding your tablet at a comfortable angle so you can still easily view the screen while charging. The Universal Charging Station is made from glossy black plastic with a shiny metal stand rail, so will fit in with most decors.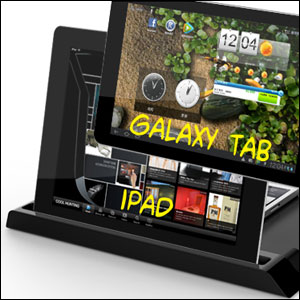 Technical Specifications:
Input: 1.5A @ 5.6V
Output: 5V, 2.1A (x1 port), 5V, 1.0A (x3 ports)
Dimensions - 280 x 200 x 40mm