Descrizione
Snoring - the bane of sound sleep everywhere
If you snore or if your partner or loved one snores, you will know how annoying it can be. For the snorer it can lead to a disturbed night's sleep - either through waking yourself up or being awoken by a distressed partner. You can be tired and irritable the next day and this can affect your work and love life. Further down the line you may decide to sleep in another room or be anxious about going to bed. It's not a nice feeling. You may even decide to wear something around or in your nasal passage. This can work, but is it comfortable? Not really.
For the partner of the snorer the effects can be just as annoying if not worse. So let us help out with an ingenious gadget that might just be the best money you ever spent.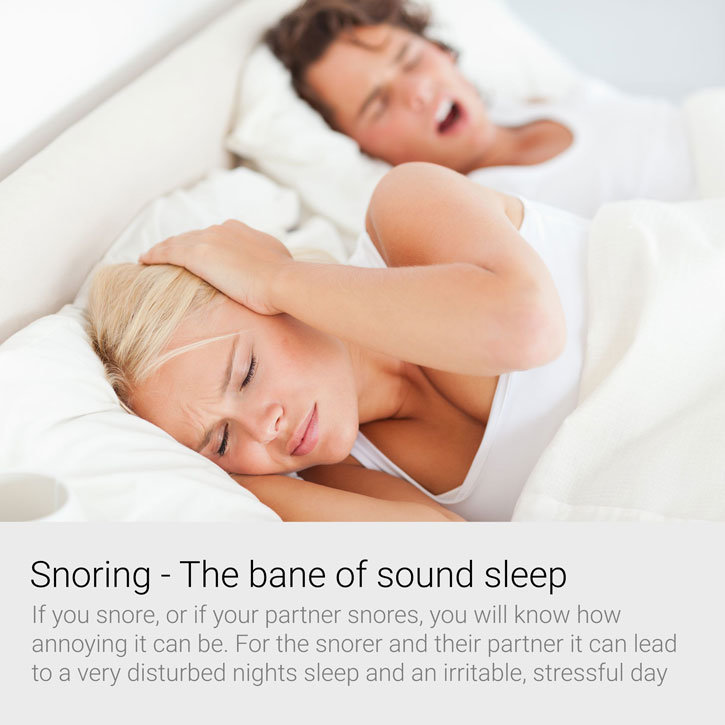 Say good night to snoring
Meet the Snore Stopper. An ingenious device that you wear on your wrist, not your face. It uses simple natural reactions to electrical impulses to encourage the snorer to change position until snoring ceases. With the correct setting to suit you selected, the Snore Stopper listens for snoring and goes into action, minimising the stress of having to wake up or wake somebody else up in the middle of the night. This means you can say good night to snoring and have a great nights sleep, awaking refreshed and in a good mood, and perhaps most importantly, your partner will too.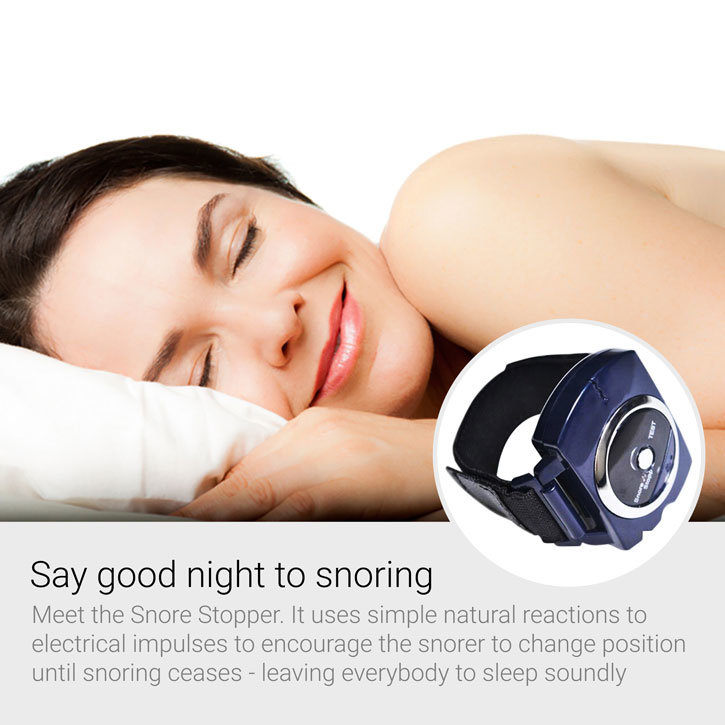 Designed to minimise snoring after 2 to 4 weeks
The Snore Stopper will begin working straight away and after 2 to 4 weeks, results have shown that snoring is massively reduced if not eliminated altogether. This will come as fantastic news to anybody who suffers with the effects of snoring.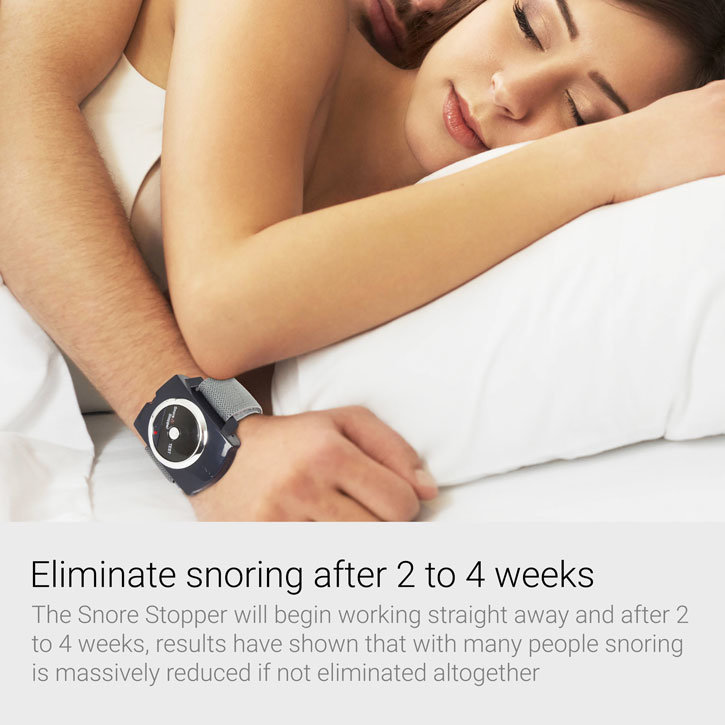 How it works - An ingenious solution using your bodies natural reactions
The process is as effective as it is simple. The Snore Stopper detects 3 or more consecutive snores at 65db or more, then applies small electronic pulses to the skin. This is enough to stimulate your brain into action but not enough to wake you up. The natural reaction is to alter your position until you stop snoring. Say for instance, rolling onto your side from your back. Ideally, nobody wakes up and you have a great nights sleep. Sound good?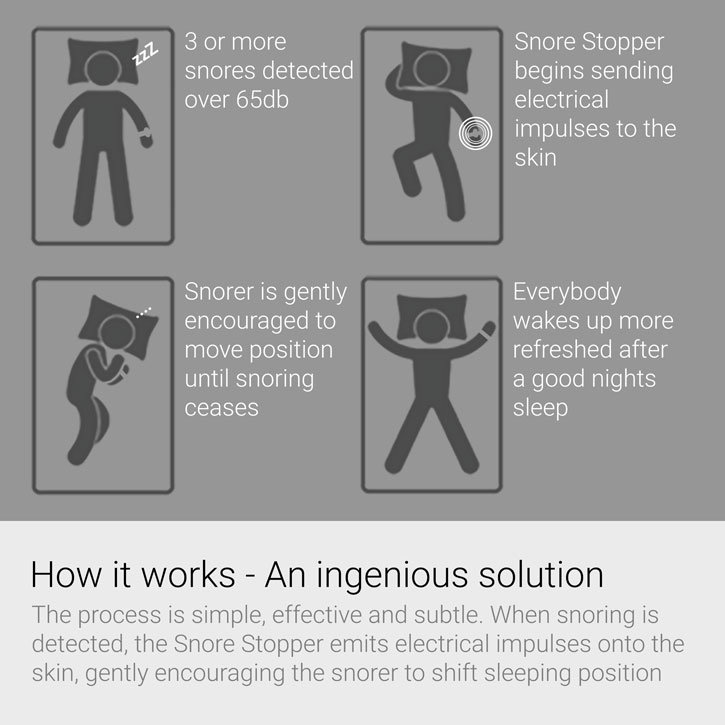 Fully adjustable, lightweight and comfortable
The Snore Stopper has a fully adjustable velcro strap that will fit any wrist size. You can also adjust the strength of the electrical impulses to suit your needs. Once you apply the conductive gel pads, find the right strength and have adjusted the strap to suit you (this can be done in seconds) you're ready for bed and your journey to sleep bliss in your household. The wristband is comfortable and lightweight and should not affect your sleep.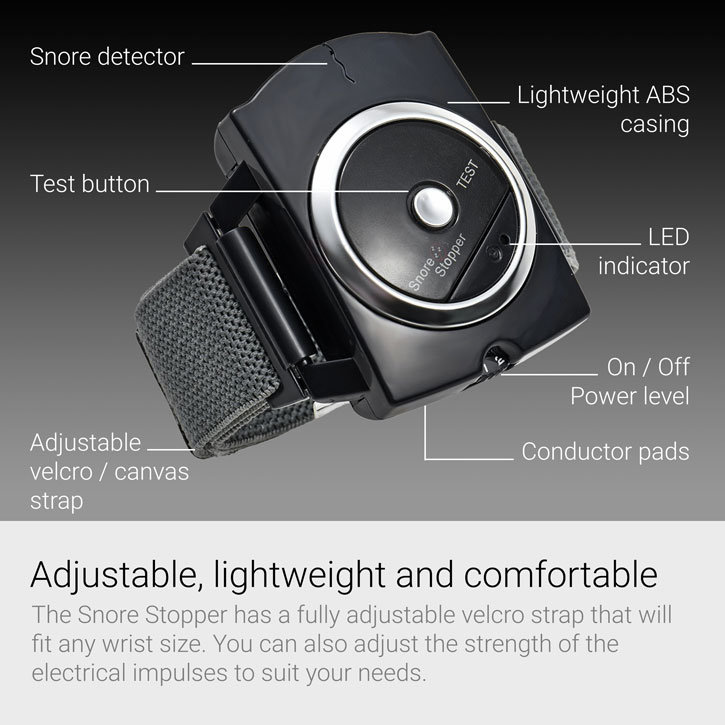 Battery powered with automatic power off
The Snore Stopper is battery operated and is powered from just 1 x AAA battery (not included). When you need to fit or replace the battery you can gain access to the compartment wit the mini screwdriver included. After 12 hours of use the device will automatically power off so you don't have to remember to switch it off and it won't waste your battery power.
Please consult medical advice if you have a heart condition or any serious medical condition before use
For the vast majority of users, there are no issues in using the Snore Stopper. We are talking mild electrical currents only. However if you do suffer from any heart condition, wear a pacemaker or other electrical equipment or suffer from any serious medical condition, PLEASE consult a medical professional before attempting to use or purchase the Snore Stopper. Also, do not wear or apply the Snore Stopper anywhere but the wrist.