Descrizione
Twin pack for double the protection
Screen protectors can be tricky beasts. There are lots of reasons why you might need a second one - in case your first one breaks or your hand slips during installation, for example. This twin pack from Olixar represents excellent value for money and stellar functionality - not only are you getting two screen protectors for an amazing price, but this means double the protection and double the peace of mind, too!
Case compatible protection for your Note 8's screen
This ingenious solution to protecting your Note 8's screen involves a tempered glass protector that covers most of the the edges of the curved screen, allowing you to use most cases on the market with it too. The underside of the screen protector sits flat on the screen and follows the contours of your phone's screen perfectly. This covers the entire screen and offers complete protection. No more compromising by leaving the curved edges exposed and this also ensures no dirt will get in - so no more "halo effect". By allowing you to use a case, you can have the complete protective solution for your phone.
High-tension 9H tempered glass construction for enhanced shock protection
The Olixar tempered glass case compatible screen protector is made from a reinforced tempered glass with an impressive 9H rating, maintaining image clarity while protecting your phone's screen from scratches and external shock. Using glass, the Olixar tempered glass screen protector with its impressive surface hardness and 0.3mm thickness is ready for your daily routine - taking care of your phone's display and maintaining its superb visual qualities.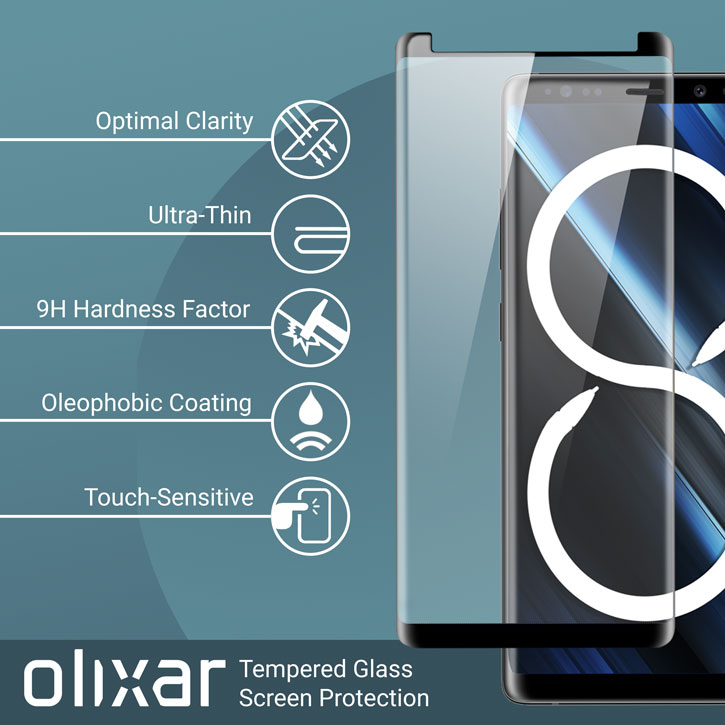 Prevents screen scratching and other damage
The Olixar range of screen protectors are designed to keep your Galaxy Note 8's screen clear from scratches and scrapes that could hamper your visibility. By creating a tough barrier between your screen and the world, any damage will be done to the screen protector and not the phone, keeping your device looking good as new.
Curved protector to cover even the sides of your display
The Samsung Galaxy Note 8 features a unique curved edge screen, perfect for viewing notifications on either side of the phone. The Olixar Tempered Glass Curved Screen Protector is designed to cover even these areas of the screen, so you can rest assured your Galaxy Note 8 has 100% display coverage providing all round protection.
Optimal clarity barely able to notice it is there
While it's important to protect your screen, it's also vital that the screen protector does not hinder your smartphone use by clouding the screen or noticeable decreasing the sensitivity of the touchscreen. Olixar screen protectors are specially made to provide optimal clarity, while also being thin enough to keep your touchscreen in perfect working order. Once on, you will find it hard to even notice the Olixar screen protector is there.
Easy to apply
Olixar screen protectors are easy to apply, as they are custom cut for each device. Simply clean the screen with the included microfibre cloth, line up the screen protector with your phone and apply. Once on, the screen protector is practically invisible.