Cosa dicono i nostri clienti di questo prodotto?
7 Giugno 2017
The best screen protector for s8
The best screen protector for s8
Damita
Newport, South Wales, UK
Samsung S8
5 Giugno 2017
Best screen cover for an Edge type screen
I tried 3 different tempered glass screen covers for my S8, having had tempered glass save my screen on and S6 and S5 in the past, I thought I better not get anything less. Unfortunately, they all fitted perfectly but were not functional, I completely lost screen responsiveness with all of them as they only adhere on the sides. So I decided to try this, ok not tempered but at least I will get scratch protection. I was pleasantly surprised, it seems more robust than a simple piece of plastic film, easy to fit and works with my flip case. Don't bother with tempered glass, they are just a waste of time on an Edge screen! This is much better fit. Together with my filp case and insurance I am hoping my screen is totally covered!!
Dirk James
Sri Lanka
Galaxy S8
31 Maggio 2017
Easy to install, perfect to use!
This was the first investment i made for my brand new S8 so was a bit skeptical initially, mainly cuz i wanted to get something that would give me at least a basic level of protection while i went about my day-to-day usage & trust me, this protector has not disappointed! The installation was pretty straight forward & easy (i got it right the first time - considering it was my first ever attempt to install a screen protector on a phone) However, Samsung have been generous enough to ship two protectors in the box just in case. It looks & feels really good and the touch sensitivity is spot-on! - It is a Samsung product specifically for this phone after all! Overall, well worth the price you pay and it does the job it was intended for! But don't expect a high grade of drop protection that a tempered glass protector would offer though.
47 Recensioni
|
Scrivi una recensione
---
Descrizione

Twin pack offers twice the protection
With this pack of two screen protectors, enjoy peace of mind for even longer. In the extremely unlikely event that one of your screen protectors becomes damaged or scratched, or you replace your phone with another Galaxy S8 - no problem. This twin pack of screen protectors really does ensure the safety and integrity of your display beyond the lifetime of your device.
Protects your smartphone screen from scuffs and scratches
Manufactured by Samsung, these specialised screen protectors for the Samsung Galaxy S8 help to keep your phone in top condition by protecting the display from scuffs and scratch damage.
The tough film layer creates a durable and hard-wearing barrier that will resist the rigours of everyday use.
Easy to apply and leaves no sticky residue when removed
The Samsung screen protector is incredibly easy to apply, especially as it is custom cut for each specific handset. Simply give the screen a thorough wipe, line up the screen protector with your phone and gently place down from one side to the other - using the application card to smooth out any bubbles. After application, you will notice that the screen protector is virtually invisible.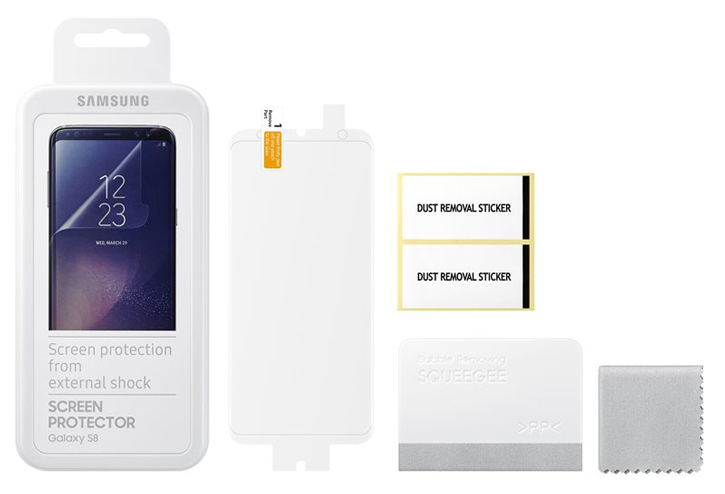 Provides invisible protection while maintaining screen clarity and sensitivity
While it's important to protect your screen, it's also vital that the screen protector doesn't hinder your smartphone use by clouding or decreasing the sensitivity of the touchscreen. Samsung screen protectors are specially designed to provide optimal clarity when used in conjunction with your Samsung handset, while also thin enough to keep your touchscreen in perfect working order.
Once applied, you won't even notice the Samsung screen protector is there!