Olixar inVent Mini Portable Universal Air Vent Smartphone Car Holder
Codice prodotto: 62407
A superb portable car mount for almost all smartphones, attaching to any vehicle air vent and holding your phone steady and in clear view. It also acts as a viewing stand. Compact and weighing next to nothing, you can take this with you anywhere.
"We love them. I bought two."
"No more mobile falling off your windscreen!"
"Fantastic!"
Cosa dicono i nostri clienti di questo prodotto?
8 Marzo 2017
We love them. I bought two.
Not just for car vents, it's great for a more comfortable hold for hands. The sticky out know makes for a very versatile gadget.
Catherine Boyle
BRENTWOOD
26 Febbraio 2017
No more mobile falling off your windscreen!
Sick of the suction of your windscreen mobile holder failing and your mobile landing on your lap while your trying to drive? Then this air vent mobile phone holder is a must have! It's sturdy and reliable and I would highly recommend it.
Trevor Lewer
London
Apple iPhone 6S
20 Febbraio 2017
Fantastic!
Simple, solid, small and easily does the job. Hasn't moved at all since I've been using it. Holds the phone securely and the rubber clip grips the vent more than adequately. The vents on a Mk3 Ford Focus aren't located in the best position but I was able to mount this holder which gives me full visibility of the phone. The in-car Bluetooth does the rest but it's nice to be able to see the phone. Sometimes I prefer to use the phone sat nav rather than the car one and this now means I can do so.
12 Recensioni
|
Scrivi una recensione
---
Descrizione
Universal - Compatible with almost all smartphones - even with cases fitted
Due to the spring loaded stainless steel mechanism and rubberised grips, the inVent Mini will fit all smartphones from a width of 55mm up to 90mm in width. This size range means basically all smartphones are compatible and in most cases, even with a case fitted.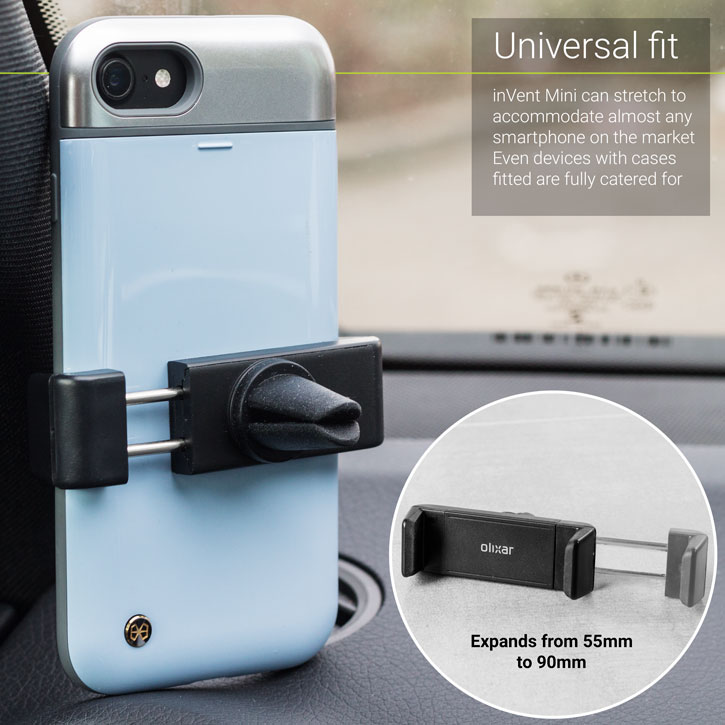 Attaches to all types of vehicle air vent
The rubberised mounting clip on the back of the holder allows you to slot it easily onto the air vents in your vehicle. It doesn't matter how your vents are positioned or shaped, inVent Mini is sure to fit and fit well - with a firm and stable hold that you need when mounting a smart device.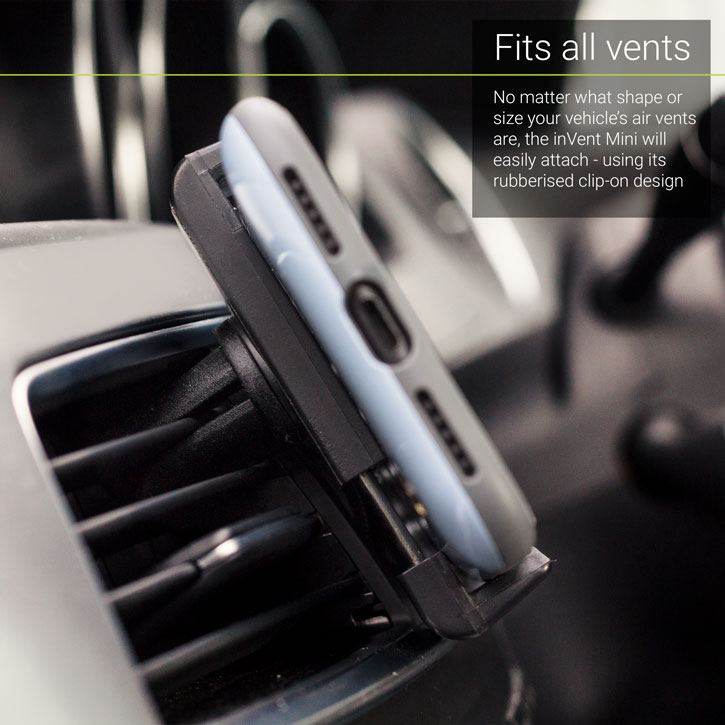 Pocket portable
inVent Mini weighs next to nothing and is small enough to fit in your pocket or bag, making it perfect for everyday use as well as holidays and business trips. If you need to switch vehicles or take it outside of a vehicle to use as a stand, you can do so in a split second. Mounting, dismounting and pocketing is as easy as 1-2-3.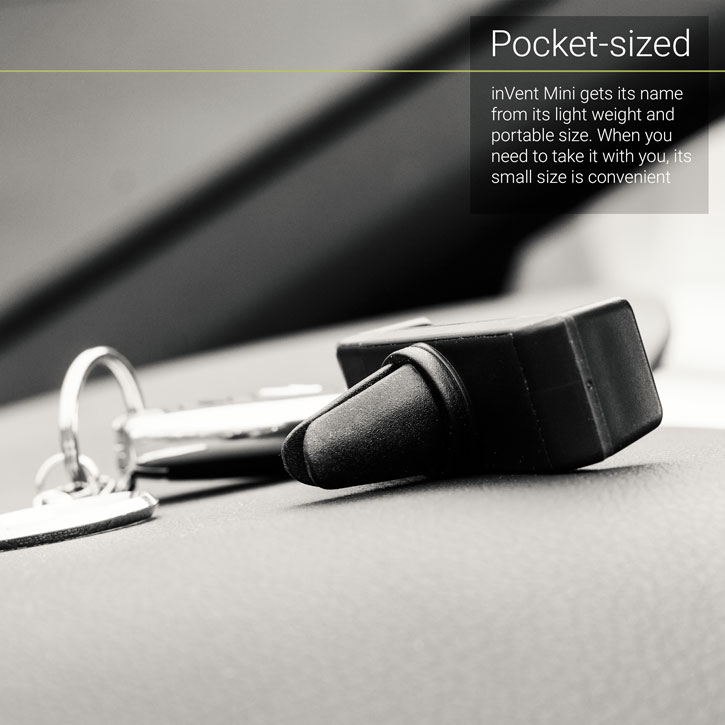 360 degree rotation
The mounting clip can be completely rotated clockwise or anti-clockwise. So there's no angle you can't get. That also means you can switch your device between portrait and landscape in a split second. You can also use the movement in your vehicle's air vents too if you wish, for that little bit of extra control.
Doubles as a handy travel viewing stand
Insert any card from your wallet or purse into the rotating clip and the versatile inVent Mini transforms into a hands-free viewing stand. It works in both portrait and landscape formats, making it perfect for watching media, viewing alerts or playing games on flights and train journeys. When you're ready to move off again, just remove your card, pop it back into your wallet or purse, pop the inVent Mini away and you're good to go. Easy.