STK Tabbi Universal Tablet And Smartphone Holder
Modello: UNITABBK
Codice prodotto: 62404
This universal tablet and smartphone holder will secure your device to almost any surface. With complete 360 degree movement and adjustable arm, you can fully adjust the tablet, to find your perfect viewing angle.
Descrizione
Universal compatibility with most devices
With a capacity to mount almost any tablet on the market and large phablets (extra large smartphones), the STK Tabbi Universal Tablet and Smartphone Holder is the ideal choice for mounting your tablet or smartphone.
Fits directly and securely on most surfaces
Featuring an ingenious mounting system, with a strong suction mount that fits perfectly in the car, in the kitchen or even in the bathroom, the STK Tabbi will provide a strong and secure way of holding your tablet or smartphone in the position you need.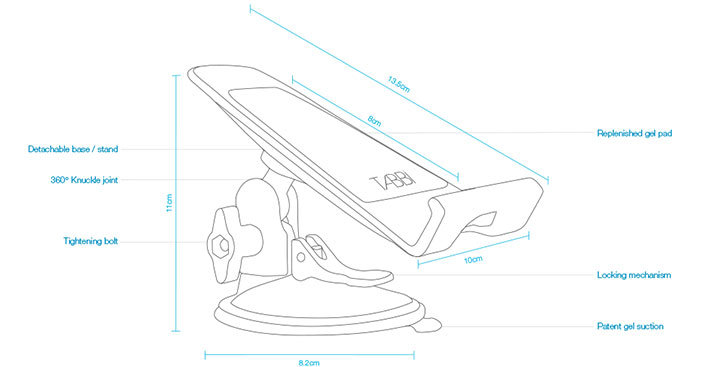 Ideal for charging your tablet in your vehicle
While the STK Tabbi itself has no charging capability, it can certainly hold your tablet securely in position while charging from your cars electrical outlet port (cigarette lighter socket) while you're using your device.
Easy installation
When we say easy, we really mean easy. You can install this holder within a minute and remove it in even less time. Just fit the plate where you require, mount the holder into place and lock it in via the strong suction grip. It really is that easy.
Perfect 360 degree view positioning
With a full 360º system and an arm that can adjusted to match the contour of the surface it is mounted on. To better support the weight of your tablet, you can position your device where and how you want it. Most importantly of all, you can position your tablet to give you the best view of the road.
Compatible with or without tablet cases
Due to its impressive gripping mechanism, you can securely hold a tablet with or without a case on. This allows you to leave many different styles of case on, yet still operate your tablet device when within the mount.
Please note: Make sure you observe the laws in your country when mounting an object that could potentially reduce your visibility if used incorrectly.