Custodia Ultra Thin Olixar iPhone 7 - Trasparente
Codice prodotto: 60589
Proteggi con stile il tuo iPhone 7 con questa custodia Ultra Thin di Olixar, dal design sottile e trasparente.
"Perfect"
"Super Slim, Great Fit"
"Crystal Clear"
Cosa dicono i nostri clienti di questo prodotto?
25 Febbraio 2017
Perfect
Perfect fit and slim enough to allow charging without having to remove the cover. Well priced and arrived within stated delivery time. Would buy again
Mario Tonetti
London
iPhone 7
20 Gennaio 2017
Super Slim, Great Fit
By Far the best cover I have had. Its super slim and really makes the iPhone 7 look great. The silicone cover also provides a really good anti-slip feel in your hands and on on any surface. The cover fits the mobile nice and tight leaving no excess bulk on the phone and all the cut outs are structured and well designed for charging and speakers, etc. Did I mention stylish as well, I have had so many compliments on the cover and been asked multiple times where I got it from, Mobile Fun, great products and very quick delivery. Definitely recommend, in fact I am going to get one for my sister as soon as she gets her iPhone 7. If you have just got an iPhone 7, let's be honest, its new, expensive and stylish, the only option is to protect it with this cover, so go and get one even before you have placed your order for your new phone!!
Craig Young
Falkirk
IPhone 7
26 Dicembre 2016
Crystal Clear
If you buy a sleek iPhone the last thing you want is a chunky case. This cover is crystal clear and you can hardly tell the phone has a cover on it. Snug fit, good access to buttons and camera lens. Also provides a good grip on your otherwise slippy shiney iPhone. Just perfect.
51 Recensioni
|
Scrivi una recensione
---
Perché comprarlo?
Finitura anti-scivolo per migliorare la presa del tuo iPhone 7
Materiale flessibile, robusto e durevole
Design slim e leggero
Accesso a tutte le porte e le principali funzionalità
---
Descrizione
Finitura anti-scivolo per migliorare la presa del tuo iPhone 7

Grazie alla finitura anti scivolo, avrai una presa più sicura del tuo iPhone 7 riducendo così il rischio di cadute. Realizzata in silicone gel flessibile, robusto e resistente, la custodia protegge la parte posteriore e i bordi del telefono senza però aggiungere spessore.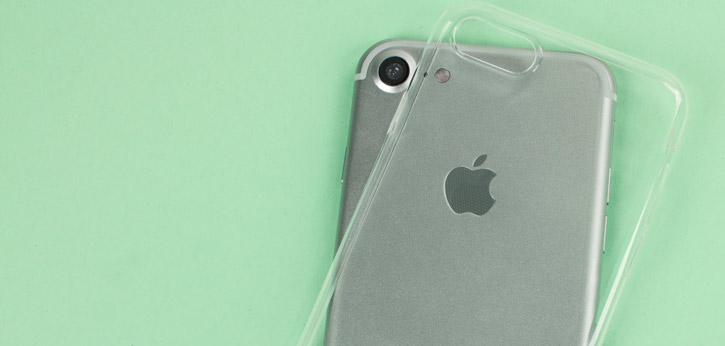 Design slim e leggero

Grazie al design di questa custodia Olixar, potrai essere tranquillo di poter proteggere il tuo iPhone 7 senza aggiungere spessore al telefono.
Accesso a tutte le porte e le principali funzionalità

La custodia ti aiuta ad ottimizzare completamente l'utilizzo del tuo iPhone 7. Infatti, la custodia dispone di aperture in corrispondenza di tutte le porte e le principali funzionalità in modo da avere accesso completo al telefono.