Cosa dicono i nostri clienti di questo prodotto?
12 Agosto 2016
A'ma'zing
I was looking for the "best" cover for my new HTC 10. And this one is the best of the moment. Really resistant (you can feel it), thé bouton now are confortable and the back door incorporate in the cover is the most useful gadget, I same use it and I have my phone in my hands. Definitely recomand, and the price is ridiculous ;) Vincent
John Rawson
Yorkshire
htc 10 ArmourDillo case
28 Luglio 2016
Brilliant product.
I needed a phone case that would provide substantial protection for my phone whilst working on cliff faces or in stone quarries. The case is ideally strong and has a pull out wedge allowing the phone to be propped up at an angle on its side. Unless you need heavy duty protection for your phone you would consider this case too bulky and detracting from the neat lines of the HTC 10 phone.
JOHN FANCOTE
BIRMINGHAM
HTC 10
14 Luglio 2016
Very pleased.
Good case, offers protection to my phone. The kick stand is useful.
21 Recensioni
|
Scrivi una recensione
---
Descrizione
Due strati protettivi separati proteggono il tuo HTC 10 da urti, graffi e cadute

Questa custodia è stata disegnata per chi ha uno stile di vita attivo. La cover interna in TPU, polimero che fornisce leggerezza e assorbe gli urti, è posizionata a contatto col telefono per una maggiore protezione. Mentre la parte esterna protegge le parti più vulnerabili del dispositivo, come gli angoli e i lati.
Esoscheletro in policarbonato resistente agli urti

La custodia ArmourDillo dispone di un esoscheletro duro che protegge da eventuali danni il retro e gli angoli del telefono. È costituito da un guscio in policarbonato in grado di proteggere il tuo HTC 10 e lo mantiene sempre come nuovo.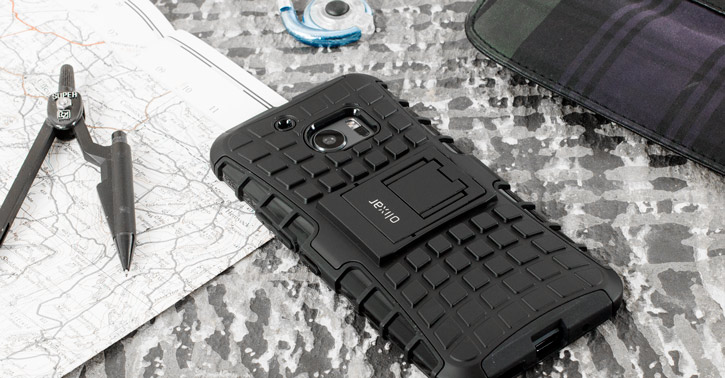 Finiture con texture a griglia sopraelevata che migliorano l'aderenza

A completare le caratteristiche di protezione del guscio in policarbonato troviamo un rivestimento a griglia, che non solo aiuta a migliorare la presa, ma rende il telefono più confortevole nel palmo della tua mano.
Mini supporto sul retro per visualizzazione in modalità panoramica

L'esoscheletro rigido non solo contribuisce a irrobustire il guscio di silicone, ma è dotato di un supporto ergonomico sul retro, che con un semplice gesto permette di posizionare il telefono in orizzontale. È dunque perfetto per la visualizzazione di video e foto.
Dotata delle aperture in corrispondenza delle porte principali

Questa cover è stata realizzata appositamente per HTC 10 e dispone delle aperture in corrispondenza delle porte principali del tuo telefono, come ad esempio la fotocamera. I pulsanti di accensione e il volume sono coperti dalla cover per fornire una protezione completa.