Cosa dicono i nostri clienti di questo prodotto?
Christine Bladen
Bodfari
Charger
24 Luglio 2017
Dual charger
Great to be able to charge both my phone and tablet from the one socket at the same time.
Harin
London
kensington 4.2A dual travel mains charger
24 Luglio 2017
This the best travelling charger money can buy
This the best travelling charger money can buy. it is quick and I can use it and so can my better half.
Naipaul Ojar
Basingstoke
Samsung Note 3, Motorola G, Motorola G4 Play, Apple 5S & 6S
30 Giugno 2017
Excellent Double Charger
This is a great device with 2 USB sockets. Each sockets can supply 2.1A or 4.2A in total. The device comes with 3 country interfaces. There are many other high current devices but none provide more power per usb port. I have now purchased 4 units with 2 as gifts to family members.
46 Recensioni
|
Scrivi una recensione
---
Descrizione
Dual USB outputs let you charge two devices at once
Whether you're looking to get the most out of your plug sockets at home or trying to save space in your home, luggage or while on the road - the 4.2 Amp Dual USB World Charging Adapter is the perfect solution.
With dual USB ports on the bottom of the charging unit, you can charge two devices simultaneously from a single wall socket.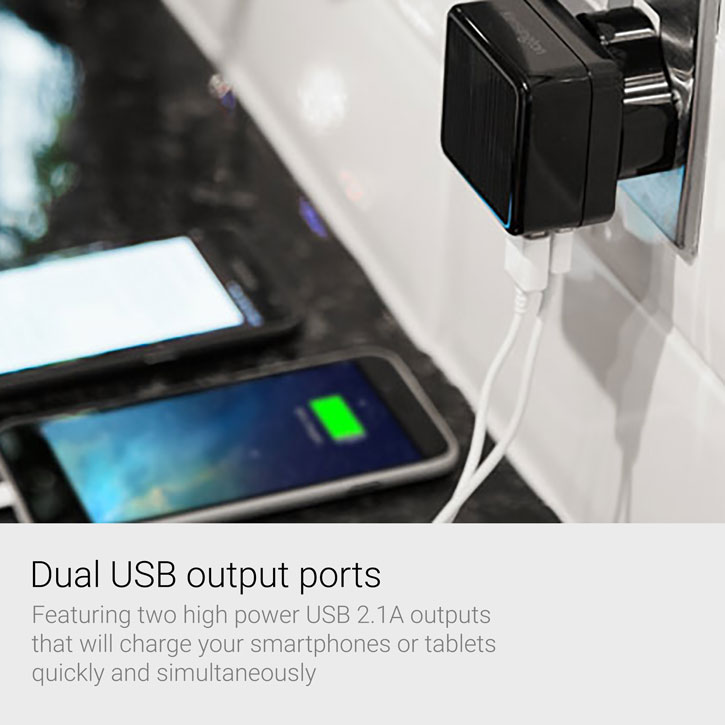 Two 2.1A high power ports provide quick recharging for mobile devices
Featuring two high power USB 2.1A outputs that will charge your smartphone or tablet quickly, the Kensington AbsolutePower 4.2 Amp Dual USB World Charging Adapter is sure to keep your devices fully charged for when you need them most.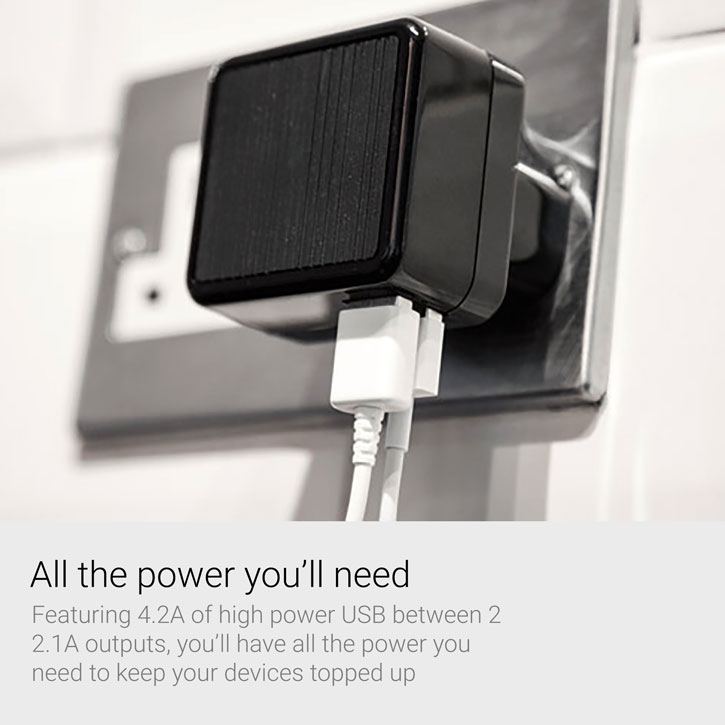 Includes adapters for EU, US and UK plug sockets
At home or abroad, the Kensington AbsolutePower 4.2 Amp Dual USB World Charging Adapter is the only charger you need. The main unit is a cube and comes with adapters for UK, US or EU sockets that attach to the back. All you need to take with you is the right adapter, which makes this travel charger more economical than most.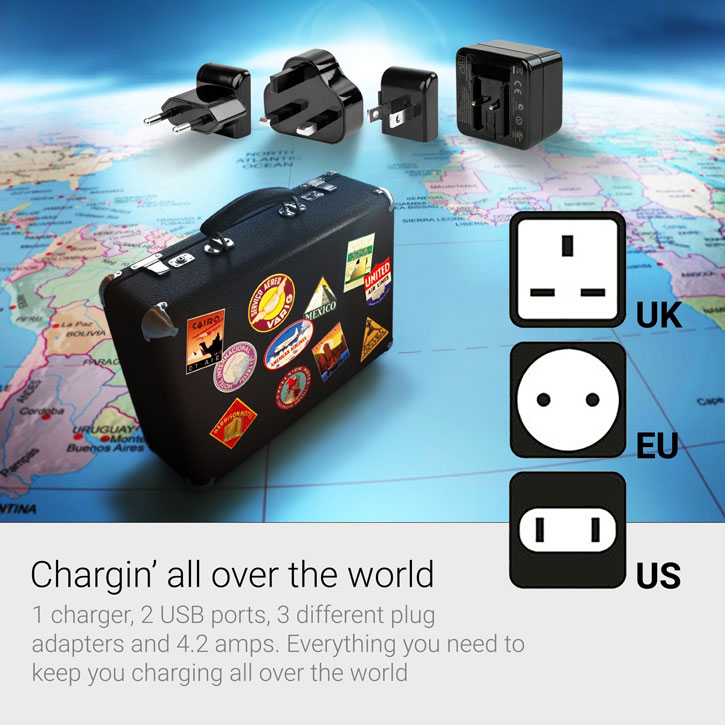 Ideal for travelling
Take this handy charger in your suitcase and charge not just your smartphone, but you can also charge your tablet too. With its 2.1A output, the Kensington AbsolutePower Charger has enough juice to charge even the most power hungry tablets including the iPad.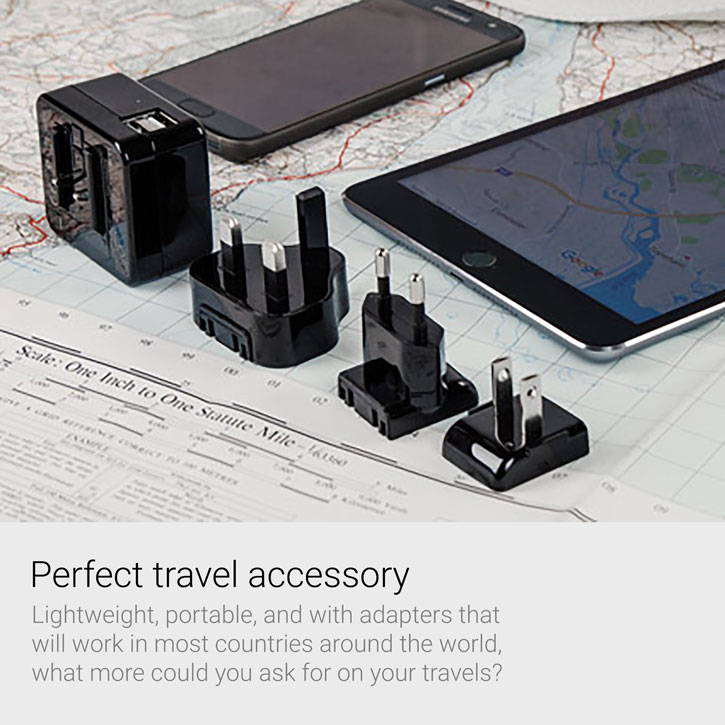 Compatible with other USB devices
If you have other devices that charge via a USB port including smartwatches, power banks, speakers and headphones - these can also be charged with the Kensington AbsolutePower Charger Dual USB Wall Charger.
Lightweight and portable
The Kensington AbsolutePower Charger gives you the freedom to charge from one socket anywhere. The slimline and lightweight design not only looks great but it makes for an ultra-portable charger that will always be ready for whenever you need it most.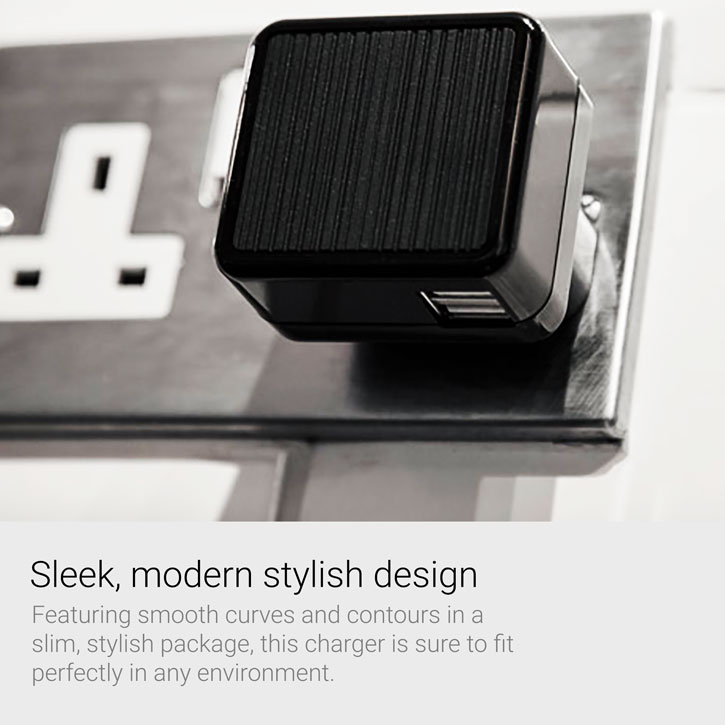 Sleek, modern design
Featuring smooth curves and contours in a slim, stylish package, the Kensington AbsolutePower Charger is sure to fit perfectly in any environment.
Please note: Cables not included.