Cosa dicono i nostri clienti di questo prodotto?
Tony Heath
Horsham, West Sussex
Google Nexus5X
20 Aprile 2016
Good quality dock
Seems to be a universal dock for USB-C socket devices. Certainly fits my Nexus5X very nicely. The adjustment is for how far up the dock's jack plug pokes out, to compensate for different thicknesses of casing, and again it's perfect for my Nexus5X's custom flap case (Google own brand) without being anywhere near the limit of the plug adjustment. The docking plug is on a movable shaft so when you grab your phone off it there's no real risk of snapping off the plug or damaging your charging port, nice design. Unfortunately either the dock's cable or its internal goodies limit the charge current to about 1.5A, meaning my Nexus5X only displays "Charging" rather than "Charging Rapidly" even when the dock is connected to a 2.5A USB supply, but then at 1.5A the phone still charges up pretty quickly and if you want an emergency fast charge then you'll be wanting to plug directly into your USB-C 3A Fast Charger that came with the phone rather than parking it on the dock. Overall, it's a well made and attractive design, and a reasonable price.
2 Recensioni
|
Scrivi una recensione
---
Descrizione
Charge and sync your device at the same time
Utilising innovative pass-through technology, this charging dock allows you to connect your Nexus 5X smartphone to the cradle via a USB connection and simultaneously use the computer port to charge your phone as well as synchronise your data simultaneously. This means that not only can you be sure that your phone is fully charged but that you can quickly and easily back up important data from your phone onto your computer or laptop.
You can also plug into a USB mains charger, if you don't have a computer USB port nearby.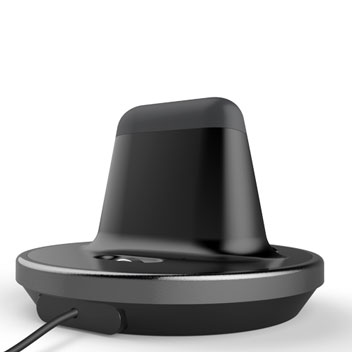 Adjustable USB-C connector
This dock has an adjustable USB-C (USB Type-C) connector that shifts from front to back, allowing you to fit your Nexus 5X perfectly.
Works with devices with or without a case attached
The Kidigi Desktop Charging Dock stands your Nexus 5X smartphone at a comfortable viewing angle. It features a unique tilting connection tip which provides enough room for you to use it with your device with or without a case attached, so you don't need to constantly remove your case from your phone every time you wish to use the charging dock.
Stable and secure mounting
The dock includes rubberised feet which help to provide a stable and secure base, free of movement. It will also declutter and make your desk look neater with its high quality finish.